So after playing around with an alternative template from Munin 1.x I took some time to amend the standard Munin templates using Twitter Bootstrap as a base. The Munstrap files are available from GitHub. The files on GitHub include bootstrap (version 3.0.2) licensed under Apache License (and from bootstrap v 3.2 MIT license).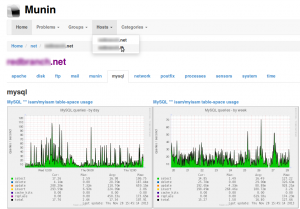 The instructions below assume Red Hat/CentOS so if you are using Debian/Ubuntu based distributions you may need to amend the paths.
Usage:
cd /etc/munin

mv ./templates ./templates_default

mv ./static ./static_default

git clone https://github.com/jonnymccullagh/munstrap.git

mv ./munstrap/templates .

mv ./munstrap/static .

cd /var/www/html/munin

mv static /etc/munin/static_old

rm -rf /var/www/html/munin/*

cp -R /etc/munin/static /var/www/html/munin

chown -R munin:munin /var/www/html/munin/static

su - munin --shell=/bin/bash

/usr/bin/munin-cron
Wait for the Munin update process to finish and then list to check that the html files have been generated. If you get a message "[FATAL ERROR] Lock already exists" then wait for a minute until the Munin update process finishes and then run it again manually.
There are sure to be problems along the way but for now this template is working for me.