So I ordered a FIDO U2F Security Key from a French company 'Plug-Up' to have a little play.  It is used in 2-factor authentication so when logging in to a service you first enter your username and password and if correct your are prompted for your second factor (a code sent by SMS or a security key). Unpacking and setting up the key was very straightforward although on Linux I had to add a udev rule (see below) for the device. Also this is for Chrome (& Chromium) only so Firefox won't work.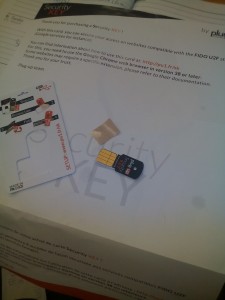 I logged in to Gmail and visited the 2-factor security settings and clicked the tab for 'Security Keys'. Clicked the 'Register' button and then inserted the security key into a USB port on the computer.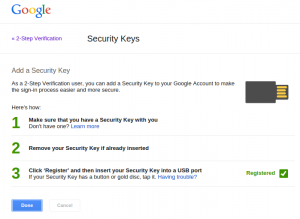 I can now keep the security key in my wallet and when logging in to my Google account from a new computer I can use the security key as my second factor. I wanted to know what would happen on a mobile device when a USB port is not available and it dropped back to using an SMS code (see below):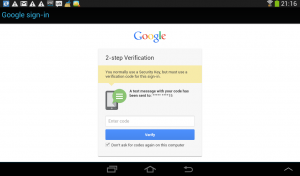 Will this security key replace a code sent by SMS? I don't think it will for me when using Google services but there are some scenarios that might benefit from using a hardware key such as this.
Interestingly there are libraries for many languages to help developers use this form of 2-factor authentication for their own apps – including one for PHP.
UDev Rule

On Linux I had to add a udev rule as described on the suppliers website:
sudo gedit /etc/udev/rules.d/10-security-key.rules
I added the following:
SUBSYSTEMS=="usb", ATTRS{idVendor}=="2581", ATTRS{idProduct}=="f1d0", MODE="0660", GROUP="jonny"
Then ran the following:
sudo udevadm trigger