I took part in a swim this weekend – The Battle of Carlingford Lough. My friend Cormac gave his Panasonic Lumix camera to Mary in the kayak and set the camera to log GPS data. He sent me the GPS log file and I opened the log file with BT747 – a Java application that can even be run from the website without installation.
BT747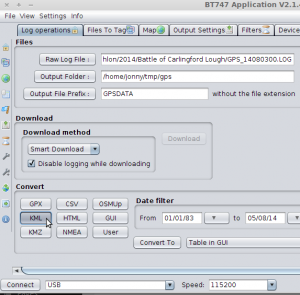 I clicked the 'Raw Log File' button and pointed it at my log file. I then clicked the 'KML' button and this generated a KML file I could then use in other applications.
Google Maps
I first tried uploading the KML file to one of my own websites and then entered the web address into the Google Maps search box. The result was quite cool:

View Larger Map
Viking
Viking can be installed on Ubuntu (and derivatives such Mint) with:
sudo apt-get install viking
Loading the KML file into viking allowed me to hide the waypoints and view the track and right-clicking the track layer allowed me to choose 'Properties' showing the track distance among other things.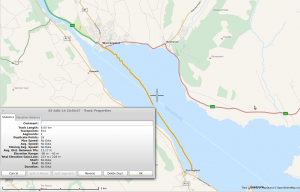 That's me happy for a while!