I noticed some unbranded Android phones on eBay and I have bought two so far. The first one was a 4.3″ Android 4.0 with the MTK6575 processor, and the second was a 4.6″ Android 4.0 with the dual core MTK6577 processor. I tested the devices using Antutu Benchmark and the scores are shown in the screenshots below. A great feature of these phones is that they take 2 sims and will receive calls on either number. This could be useful for people who have a work phone and a private phone but don't want to carry 2 devices.
The X2 Star
The first unbranded phone we bought on eBay was the X2 Star from seller shangwenhero for £124 (but we were stung for import duty on this one). This phone is very similar to a Samsung and scored 3718 on the Antutu Benchmark that I ran. The processor is an MTK6575 at 1GHz. Negative points? None really. The benchmarking appears slower than the One X below but in every day use this is not noticeable so far!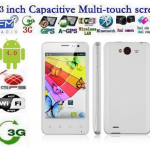 The One X
I bought the One X from eBay seller rapidly-pass for £138 and didn't get stung for import duties. The eBay page for the item is here (at time of writing). Some pictures of the phone and contents below. The processor is MTK6577, Cortex A9 dual core, 1.0GHz with  GPU: PowerVR SGX53. The 4.6″ screen feels a little big in my small hands so the 4.3″ would possibly have been a better fit. It is similar to a HTC One X although a little larger screen and with buttons in slightly different locations.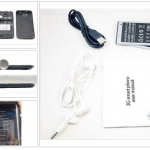 With Antutu benchmark the One X scored 5241. For comparison a friends HTC Sensation scored 4931.
The negatives. The One X sockets for the earphones and the usb cable are very deep. Not all earphones work and a usb cable (supplied) with a long nib on the end is required. The seller can supply these but it is still a negative. The only other negative is that it is difficult to purchase other accessories that are much easier when your model is from a well known supplier. I have tried the HTC One X accessories and they are close but not perfect.