I noticed one of our Windows 2008 servers running low on space on the C: drive and used Disk Usage Analyzer to scan the disk. I had been suspecting the winsxs directory as this has been a culprit in the past: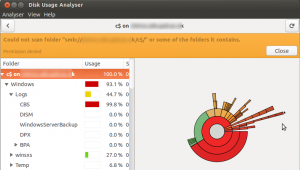 However, this time it turned out to be the C:\Windows\Logs\CBS\CBS.log file at almost 18GB:

The CBS.log file is used to log the actions of the SFC (System File Checker) – At 18GB I opted not to attempt opening it in a text editor.
To delete the file I first had to stop the "Windows Module Installer" service. I then deleted the file and to be safe restarted the "Windows Module Installer" service again – although I think it had started again itself. The disk space had been freed up and the CBS.log file was being written to again:

Apparently the log should be searched for the phrase "cannot repair"  although I was unable to find any instances of that phrase so hopefully all is fine.